An expanded line of crop-specific products proves vital for farmers

SOLON, Ohio (July 24, 2023) – As rising prices and fertilizer availability threaten crop productivity and profitability, U.S. farmers are turning to new biologicals that significantly boost return on investment by up to $4,000 per acre. The products are part of an expansion to the award-winning Rhizolizer® product line, and feature crop-specific formulas that ensure broader availability.
Developed by Locus Agriculture (Locus AG), Rhizolizer is a line of agricultural biologicals composed of carefully selected strains of endophytic microbes tailored to specific crops. The biologicals are designed to colonize roots, promote early root development and boost productivity.
The line expansion will include: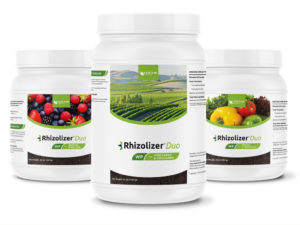 –Rhizolizer Duo for Berries & Melons
–Rhizolizer Duo for Fruits & Vegetables
–Rhizolizer Duo for Vineyards & Orchards
Third-party trials performed through Contract Research Organizations (CROs) confirmed an increase in yield and a return on investment for all crops studied using the new crop-specific Rhizolizer Duo biologicals, including:
Strawberries: up to 1,523 more pounds per acre and $4,190 return on investment
Tomatoes: up to 3,993 more pounds per acre and $2,021 return on investment
Peppers: up to 2,238 more pounds per acre and $880 return on investment
Grapes: up to 1,939 more pounds per acre and $2,277 return on investment
"The new Rhizolizer Duo products contain proprietary Trichoderma and Bacillus strains that are scientifically proven to enhance crop performance," said David Dyson, lead agronomist of Locus AG. "This product line unlocks a host of benefits for farmers that wouldn't otherwise be achievable."
This expansion joins the Rhizolizer row crop line which includes Rhizolizer Duo, Rhizolizer Prime and Rhizolizer Organic for row crops. The new specialty crop products are available as a wettable powder that can be mixed into irrigation, making it easy to use with optimized application rates. They have a higher CFU count and more microbial activity compared to competitive products.
Through the production of vital biologicals, Locus AG's aim is to empower farmers to overcome the challenges of a volatile market and achieve unprecedented success. As a result, farmers can grow more profitable, productive and sustainable crops with this new specialty biological product line while maximizing crop yields and profitability.
###
About Locus Agriculture®
Locus Agriculture (Locus AG) is an agriculture biological company that consistently pairs the most vital inputs with data-driven guidance to help growers achieve more productive, sustainable crops. Its globally recognized CarbonNOW® carbon farming program gives farmers a new way to boost yields, profit and accelerate carbon sequestration while reducing operating costs and environmental impact. Locus AG gets its core scientific capabilities from its parent company, Locus Fermentation Solutions (Locus FS), an Ohio-based green technology powerhouse. Because of this, the process, team and partnerships are unmatched in the industry. For more information, visit LocusAG.com.
Media Contact
Bridget Norman
Media & PR Director
bnorman@mcdmarketing.com
309-346-4230
Brittany Mobley
Media Public Relations Specialist
pr@locusfs.com
Source: AgNewsWire - https://agnewswire.com/2023/07/24/us-farmers-to-boost-roi-by-up-to-4k-per-acre-with-new-biologicals/