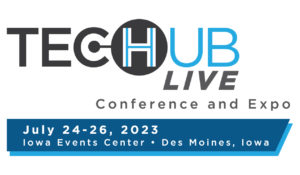 Des Moines will once again host the third annual Tech Hub LIVE Conference and Expo, bringing together tech-enabled, data-driven agriculture practitioners for a groundbreaking conference, July 24-26 at the Iowa Events Center.
Tech Hub LIVE, powered by CropLife Media Group

, will kick off with a 1990s-themed welcome party, sponsored by the Greater Des Moines Partnership, on July 24 at 5:30 pm. Just prior to the reception, Tech Hub LIVE has announced the inaugural meeting for Women in Ag Tech on July 24 starting at 2:00 pm.
Central to the unique event experience is the exhibit hall, where leading companies showcase their latest products and services. Tech Hub LIVE continues to enhance its offerings by developing new elements with Fireside Tech Chats showcasing top retailers and industry leaders sharing experiences, case studies, and best practices. Roundtable Discussion Groups will be available each morning for more focused conversations with industry experts and innovators. There's also more dedicated time available to explore companies in the exhibit hall and listen in on 10-minute Tech Talks to learn more about the technologies and solutions developed to improve operations.
This virtual ag newsroom includes links to photos and audio content available free of charge for digital or print publication or broadcast.
Photos
2023 Tech Hub LIVE Conference and Expo photo album
Interviews/Audio
Learn more about what's in store in this preview interview.
Tech Hub LIVE preview with Lara Sowinski, CropLife Media 10:58
2023 Tech Hub LIVE Networking Partner Proagrica – interview with Scott Cogdill, Director of Business Development at Proagrica
2023 Tech Hub LIVE partner preview with Scott Cogdill, Proagrica (8:20)
Interview with Dr. Karen St. Germain, NASA, Earth Science Division Director – Women in Ag Tech (WiAT) guest speaker
2023 Tech Hub LIVE interview Dr. Karen St. Germain, NASA (4:26)
Tech Hub LIVE Destination partner Greater Des Moines Partnership – interview with Mike Swesey, Executive Director; and Melissa Moyer, Economic Development Coordination Manager
2023 Tech Hub LIVE interview Mike Swesey and Melissa Moyer, Greater Des Moines Partnership (2:46)
Keynote presentation – Dr. Alyssa Whitcraft, Executive Director of NASA Acres and Co-Founding Deputy Director of NASA Harvest
2023 Tech Hub LIVE presentation - Alyssa Whitcraft, NASA (41:39)
Source: AgNewsWire - https://agnewswire.com/2023/07/12/2023-tech-hub-live/