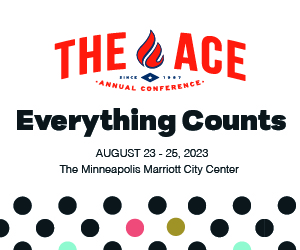 The ACE – the 36th annual American Coalition for Ethanol (ACE) conference is taking place August 23-25, at the Minneapolis Marriott City Center, with the theme "Everything Counts."
The conference provides two days of general sessions, including updates from ACE leadership, and this year, event coverage will feature topics like new uses and markets for ethanol producers, the retail marketplace for E15 and E85, farm-to-biofuel carbon market opportunities, and trade developments. The conference also offers breakout sessions with subjects covering the latest in technology updates, strategic planning advice, as well as ways for ethanol plants to lower their carbon score and raise profitability.
This virtual ag newsroom includes links to photos and audio content available free of charge for digital or print publication or broadcast.
Photos
2023 ACE Conference photo album
Press Releases
ACE Elects Board of Directors During Annual Business Meeting
OPIS Global Head of Energy Analysis Kloza to Keynote the ACE Conference in Minneapolis
Interviews/Audio
2023 ACE Conference preview interview with Katie Muckenhirn, Vice President of Public Affairs.
2023 ACE preview - Katie Muckenhirn, ACE 6:34
ACE President Dave Sovereign, Golden Grain Energy, opening remarks and interview
2023 ACE - Dave Sovereign, ACE president, remarks 6:44

2023 ACE - Dave Sovereign, ACE president, interview 4:23
ACE CEO Brian Jennings Opening Remarks
2023 ACE - Brian Jennings, ACE CEO 17:51
ACE Chief Marketing Officer Ron Lamberty remarks
2023 ACE - Ron Lamberty, ACE 15:58
Keynote: Ethanol Outlook in a Changing Energy Market Landscape – Tom Kloza, Global Head of Energy Analysis, Oil Price information Service (OPIS)
2023 ACE - Tom Kloza, OPIS 33:41

2023 ACE - Interview with Tom Kloza, OPIS 2:34
Panel – Untangling and Maximizing IRA Biofuel Incentives
Donna Funk, Principal-Partner, Pinion
2023 ACE IRA Panel, Donna Funk, Pinion 12:53
2023 ACE interview - Donna Funk, Pinion 9:44
Mel Schwarz, Director of Legislative Affairs, Eide Bailly LLP
2023 ACE IRA Panel, Mel Schwarz, Eide Bailly 18:58
Bradley Pederson, Partner, Christianson PLLP
2023 ACE IRA Panel, Bradley Pederson, Christianson 20:19
Panel – Cultivating Progress: Climate-Smart Farming for Carbon Markets
Jonathon Lehman, Founder, Cultivating Conservation
2023 ACE Panel Jonathon Lehman, Founder, Cultivating Conservation 13:52
Brennan Lewis, Research Associate, South Dakota State University
2023 ACE Panel Brennan Lewis, South Dakota State University 12:29
Ron Alverson, ACE Board Member, Dakota Ethanol
2023 ACE Panel Ron Alverson, Dakota Ethanol 8:14

Interview with Ron Alverson, ACE Board Member, Dakota Ethanol – winner of Merle Anderson Award
2023 ACE interview Ron Alverson, Dakota Ethanol 4:54
Interview with Jan Lundebrek, Cheppewa Valley Ethanol Company – Grassroots Award Winner
2023 ACE interview Jan Lundebrek, Cheppewa Valley Ethanol Company 3:49
Source: AgNewsWire - https://agnewswire.com/2023/08/19/2023-american-coalition-for-ethanol-conference/